"Hey, no bother. You really are a brave engine though. Trying to make sure I kept myself safe this morning, you're a real warrior."
— Clyde, Time Waster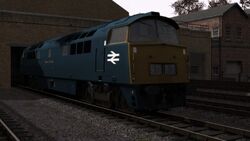 Warrior
Number: D1017
Class: BR Class 52
Designer: BR Swindon Works
Build date: 1963
Configuration: Co-Co
Arrived on the DR: 1972
Voice Actor: Callum Hancock
Western Warrior, better known as simply Warrior, is a large diesel hydraulic engine who lives on the Dark Railway.
Warrior was built on March 15th,1963 at Swindon Works. In 1965, he learned that a steam engine, Hannington Hall, was being taken for scrap. Knowing of a preservation group who were after a Hall, Warrior decided to take her off her intended scrap train and put her onto a siding at Swindon Works, where he stayed with her until the group came and rescued her. By 1972, Warrior had been withdrawn along with the rest of the Western Region hydraulics as they were deemed non-standard by British Rail. He was left in the withdrawal sidings where he was discovered by Clyde one morning. Clyde revealed that he had learned of the hydraulics from Hannah, who was now based on the Dark Railway, and that he was looking for a diesel for the DR. After hearing Warrior's story, he decided to collect Mr. Dark, who agreed to purchase Warrior. He was brought to the railway that evening, and was reunited with Hannah. Warrior was subjected to verbal abuse from the passengers in the months that followed, and was one of the leaders of the diesel strike.
Warrior is a gentle sort who stands up for those he feels are treated unfairly, though he puts on a tough demeanour when initially meeting others.
Warrior is currently painted in British Railways blue with full yellow ends.
Warrior is based on a British Railways Class 52 Co-Co diesel hydraulic locomotive. This class was known as "Westerns".
Appearances
Edit
The Dark Railway Series
Edit
Episodes:
Warrior's voice and occasional pieces of his dialogue are references to the character Warrior from TUGS.
Community content is available under
CC-BY-SA
unless otherwise noted.