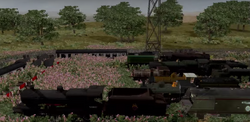 The Scrapyard Engines
The Scrapyard Engines are a group of locomotives who were withdrawn by British Railways and sent to Parry Scrapyard, South Wales, by the early 1960's.
These engines were, presumably, in the employ of British Railways until at least 1960, when they were withdrawn from service and sent for scrapping in South Wales.
The engines were purchased by the scrap merchant Liam and Martyn Parry, who own Parry Scrapyard. The engines remained there for a long time, before either succumbing to the scrapper's gas axes, or else being saved by preservation groups. Unfortunately, a large majority of these engines were indeed scrapped.
The scrapyard engines are based on a variety of locomotive classes. Among them are S&DJR Class 7F 2-8-0s, a GWR 5700 Class 0-6-0PT, a SR Battle of Britain Class 4-6-2, several Barclay 0-4-0STs, a LB&SCR 2-2-2, a few GWR 4900 Hall Class 4-6-0s, and a LMS Class 4F 0-6-0. In The Missing Christmas Presents, a LMS Class 5MT Black 5 4-6-0 is also seen.
Appearances
Edit
The Dark Railway Series
Edit
Episodes:
Specials:
One of the locomotives appears to be an ex-London, Brighton and South Coast Railway engine, still painted in LB&SCR Livery. Although this would be likely inaccurate due to the time period, this is due to limitations within both the game and the capabilities of the creator at the time.
Some of the locomotives appear to still be in steam during the events of "The Betrayal".
Community content is available under
CC-BY-SA
unless otherwise noted.