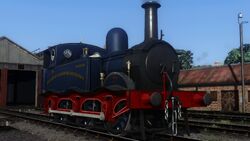 Hammond
Number: 3
Class: DW&BJR Shunter Class
Build date: 1885
Configuration: 0-6-0T
Voice Actor: Ben Booth
Hammond is an old tank engine who lives on the Dexby Railway.
Hammond was built in 1885 at the Dexby Railway's own Oakend Works. He spent his entire life on the line, until he came to visit the Dark Railway in the mid-1970s, requiring work on his tubes and cranks. He was placed on display in the Galen Junction Railway Museum until 1976, when he was moved into Caracus Smash Ltd along with several other engines from the museum. In the works, he expressed his pleasure at the fact that the Dark and Dexby Railways had set aside their long standing rivalry in the preservation era. His repairs were completed in 1978, after which he was run-in on the DR over a few weeks. Though he was keen to go home, he worked well and was impressed to see that the Dark Railway was nothing like the rumours he had heard about it back home. One incident occurred during his stay at Soma, where he accidentally pushed a line of vans into a set of buffers and was frightened off by Mr. Chairman shouting at him. This incident didn't impact his overall experience, however, and he returned home wondering if he would ever come back to the railway.
Hammond is an experienced sort, who chooses to put himself above the long running feud between his own railway and the Dark Railway.
Hammond is currently painted in Dexby West and Becksford Joint Railway lined blue with red frames.
Hammond's basis, the Dexby Railway "Cthunter" Class 0-6-0T, is a freelance design of locomotive derived from the Great Central Railway Class 12AM (LNER E8) 2-4-0T.
Episodes:
Hammond's model was created by Ben Booth for his own planned series The Tales of Dexby. The model is a retool of Cameron Scott's LNER E8 model for the Trainz Simulator series.
Hammond is the first locomotive of a fictitious prototype to be featured in The Dark Railway Series, having appeared in the series prior to Dark Railway No 1202.
Community content is available under
CC-BY-SA
unless otherwise noted.