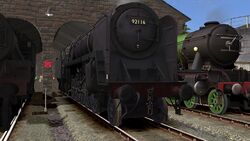 Gary
Number: 92116
Class: BR Standard Class 9F
Designer: Robert Riddles
Build date: 1956
Configuration: 2-10-0
Voice Actor: Rhys Davies
Gary is a large heavy goods locomotive.
Gary was built on December 31st, 1956 at Crewe Works. At some point in his life, he was transferred to Newport shed, where he met engines such as Freddie and Flying Scotsman, while getting into several misadventures of his own.
Bio in Gary the Steam EngineEdit
Gary once sent Freddie off looking for a clitoris to get him away from himself, only to end up having to save Freddie after he ended up in Barry Scrapyard looking for one.
Bio in The Dark Railway SeriesEdit
In 1962, due to a contract that Freddie had created, Gary, Freddie, and Flying Scotsman came to visit the Dark Railway. Whilst they were there, Gary helped to collect the railway's Christmas presents with Dave, only for them to stop at a pub on the way home and leave the presents behind. Gary was shocked to see his enemy, Gold-Buffer, come into the yard with the presents, though the diesel assured him that he wouldn't kill him that day. Shortly afterwards, Gary and the Newport visitors returned home.
Gary is a laid back and easy going engine, but is very foul mouthed and, when pushed, can show great potential. He is very caring of his best friend, Freddie, whom he likes to keep an eye on and sometimes abuse when the situation calls for it.
Gary is painted in British Railways unlined black with the late crest.
Gary is based on the British Railways Standard Class 9F 2-10-0.
Appearances
Edit
Gary the Steam Engine
Edit
Episodes:
The Dark Railway Series
Edit
Episodes:
Specials:
Films:
Gary was the main character of the Angry Welshman Productions series Gary the Steam Engine. After Rhys Davies announced that the series would not be returning to AWP as was originally planned, Dark DJ announced in 2016 that Gary the Steam Engine would now be produced by Dark DJ Productions and would be returning to YouTube in 2017. Rhys Davies reprised the role of Gary for the only episode produced for the reboot.
In Event Horizon, Flying Scotsman mentions Gary during the period set in 1953, even though Gary wasn't built until 3 years later.
When depicted with a face by Dark DJ, Gary has a black goatee with a few grey hairs.
Community content is available under
CC-BY-SA
unless otherwise noted.