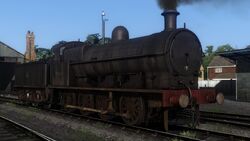 Colossus
Number: 49450, previously 9450 and 13
Class: L&NWR Class G2 "Super D"
Designer: Charles Bowen Cooke
Build date: 1922
Configuration: 0-8-0
Arrived on the DR: 1972
Colossus is a large goods engine who lives on the Dark Railway.
Colossus was built on June 30th, 1922 at Crewe Works. Upon withdrawal from British Railways in 1959, he was sold to a scrapyard in Birmingham, where he languished for several years. He was placed at the back of a long line of engines and watched them all being cut up before him. Eventually, he was one of the only engines left in the yard, but before the scrapmen could reach him, he was suddenly purchased by Zeke Dark. Zeke brought Colossus to the Dark Railway and immediately placed him on display in the Galen Junction Railway Museum, as he would be a long term project. Colossus was later shunted alongside Eddie, who had been left alone at the back of the museum. As Eddie had still been affected by the death of his best friend Colin, Colossus assured him that he was not to blame for what happened, and that he should look to the future as he would be doing. Following the collapse of Soma viaduct, Colossus warned Zeke that the insurance company may not pay out for the repairs owing to the circumstances, though he insisted he was only trying to stay realistic.
Colossus is an old and wise freight engine, who has experienced the nitty gritty parts of life and appreciates the ups and downs of railway operations. He has always tried his hardest to understand his colleages and friends, but is not above looking at the bigger picture and understanding that, at the end of the day, he is a machine built by humans to serve humans.
Colossus is currently painted in British Railways unlined black livery with the late crest. Before nationalisation, he presumably wore LMS unlined black and L&NWR black before the grouping.
Colossus is based on a London and North Western Railway Class G2 0-8-0, which was known as the "Super D".
Appearances
Edit
The Dark Railway Series
Edit
Episodes:
Colossus is named after the Thomas Bangalter song of the same name.
Colossus is the first individual locomotive purchased by Zeke Dark.
Community content is available under
CC-BY-SA
unless otherwise noted.