"Look! Cheapside was a rubbish little tank engine, and my dad bought him not me!"
— Mr. Dark, Abomination (episode)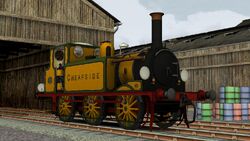 Cheapside
Number: 47
Class: LB&SCR Class A1/A1X Terrier
Designer: William Stroudley
Build date: 1876
Configuration: 0-6-0T
Arrived on the DR: 1913
Left the DR

: 1913
Cheapside was a small tank engine who once worked on the Dark Railway.
Cheapside was built on December 31st, 1876 at Brighton Works. He worked on the London, Brighton and South Coast Railway for several years, presumably hauling suburban services. 
In January 1913, Cheapside was placed on loan to Lord Dark for use on the Dark Railway. Unfortunately, he was not very reliable, and four months later, he was sadly involved in an accident when he accidentally moved too far onto the mainline while shunting and was hit by a double headed express coming in the opposite direction. His fireman was killed in the crash while Cheapside was severely damaged. The LB&SCR then decided to take back the locomotive after the accident and have him rebuilt with the A1X specification, including a larger bunker, in 1914.
He went on to lead a fairly normal life with the LB&SCR, Southern Railway and British Railways. His history beyond 1949 is currently unknown, but it is presumed that he was either scrapped, stored or sold...
Cheapside was (at the time) painted in the LB&SCR's ochre livery, nicknamed Stroudley's "Improved Engine Green". His name was painted on his tanks in the same style as the Dark Railway's logo. Presumably, he was repainted into LB&SCR, SR and BR liveries during his lifetime.
Cheapside is based on a LB&SCR Class A1 Terrier 0-6-0T, which was later rebuilt into an A1X Class.
Appearances
Edit
The Dark Railway Series
Edit
Episodes:
Other Appearances:
Cheapside was originally intended to have been withdrawn and scrapped following the accident on the Dark Railway in 1913. However, the announcement of a new Terrier model for Train Simulator by Victory Works persuaded Dark DJ to rewrite his backstory and have him survive.
It is unknown as to whether or not Cheapside will be a character in TDRS.