Line 11:
Line 11:
 
 
 

==Bio==

 

==Bio==

−

Bucklebury Grange was built on September 30th, 1936 at Swindon Works. At some point in his life, he was transferred to work on the Redwick and Chiltern Hills lines on the Oxfordshire and Berkshire border. Over time, Buck became heavily involved in the scheme to have this line become an independent railway separate from British Railways, and was eventually purchased by its owner, Mr. Stard.

+

Bucklebury Grange was built on September 30th, 1936 at Swindon Works. , he was transferred to work on the Redwick and Chiltern Hills lines on the Oxfordshire and Berkshire border. , Buck became heavily involved in the scheme to have this line become an independent railway separate from British Railways, and was eventually purchased by its owner, Mr. Stard.

 
 
−

In the mid-1970s, Buck came to the [[Dark Railway]] to have his springs repaired at [[Caracus Smash Ltd]]. He went on display at the [[Galen Junction Railway Museum]] whilst he waited for the work to be done, and eventually went into the works along with several other engines from the museum. His repairs were finished in 1978, after which he was run-in on the railway for a few weeks. He went out of his way to avoid taking passenger trains due to his frequent mishaps while pulling them, until Zeke requested he take one and offered to put in a good word for him with his owner. Though the first part of the journey went well, his relief was short-lived as he ended up running down [[Upway Bank]] too fast, causing him to derail at [[Upway]]. Convinced he had done it on purpose, Zeke promptly sent him home after being mended once more.

+

In the mid-1970s, Buck came to the [[Dark Railway]] to have his springs repaired at [[Caracus Smash Ltd]]. He went on display at the [[Galen Junction Railway Museum]] whilst he waited for the work to be done, and eventually went into the works along with several other engines from the museum. His repairs were finished in 1978, after which he was run-in on the railway for a few weeks. He went out of his way to avoid taking passenger trains due to his frequent mishaps while pulling them, until Zeke requested he take one and offered to put in a good word for him with his owner. Though the first part of the journey went well, his relief was short-lived as he ended up running down [[Upway Bank]] too fast, causing him to derail at [[Upway]]. Convinced he had done it on purpose, Zeke promptly sent him home after being mended once more.

 
 
 

==Persona==

 

==Persona==
---
Latest revision as of 17:54, 13 June 2021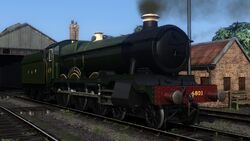 Buck
Number: 6803
Class: GWR 6800 "Grange" Class
Designer: Charles Collett
Build date: 1936
Configuration: 4-6-0
Voice Actor: Christian Rasmussen
Bucklebury Grange, also known as Buck, is a large mixed-traffic engine who lives on the Redwick and Chiltern Hills Railway.
Bio[]
Bucklebury Grange was built on September 30th, 1936 at Swindon Works. In 1950, he was transferred to work on the Redwick and Chiltern Hills lines on the Oxfordshire and Berkshire border. In 1952, Buck became heavily involved in the scheme to have this line become an independent railway separate from British Railways, and was eventually purchased by its owner, Mr. Stard.
In the mid-1970s, Buck came to the Dark Railway to have his springs repaired at Caracus Smash Ltd due to an incident with some wagons on his own railway. He went on display at the Galen Junction Railway Museum whilst he waited for the work to be done, and eventually went into the works along with several other engines from the museum. His repairs were finished in 1978, after which he was run-in on the railway for a few weeks. He went out of his way to avoid taking passenger trains due to his frequent mishaps while pulling them, until Zeke requested he take one and offered to put in a good word for him with his owner. Though the first part of the journey went well, his relief was short-lived as he ended up running down Upway Bank too fast, causing him to derail at Upway. Convinced he had done it on purpose, Zeke promptly sent him home after being mended once more.
Persona[]
Though an eccentric type who is typically nonchalant about his various incidents, Buck is also a friendly type who is quick to defend his friends when provoked. He also has worries concerns pulling passenger trains, owing to his spotty history of mishaps when pulling them.
Livery[]
Buck is currently painted in Great Western Railway lined green with "GW" on the tender. During his BR days, he carried both British Railways lined green and BR lined black.
Basis[]
Buck is based on a Great Western Railway 6800 Grange Class 4-6-0.
Appearances[]
The Dark Railway Series[]
Episodes:
Trivia[]
Buck is one of the main characters of the EpicBanastard series Rails to Refuge.
Buck has a bad habit of derailing whilst at work, which led to his arrival on the Dark Railway in the first place.
In the shared universe of The Dark Railway Series and Rails to Refuge, Buck is established as being the sole surviving member of his class.