"Ey Up?"
— Barry's catchphrase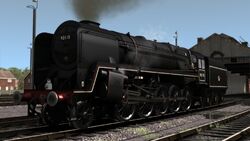 Barry
Number: 92115
Class: BR Standard Class 9F
Designer: Robert Riddles
Build date: 1956
Configuration: 2-10-0
Arrived on the DR: 1970
Voice Actor: Anthony Sims
Barry is a large goods engine who lives on the Dark Railway.
Barry was built on December 31st, 1956 at Crewe Works. He spent much of his working life in the north of England, picking up his northern accent. He was withdrawn from service in 1966 and eventually ended up at Caracus Smash Ltd. He was slowly restored to working order by Mr. Smash and was completed at the end of 1970, being brought to the Dark Railway. Caracus Smash was not pleased to see him, and he proceeded to bewilder the other engines with his outlandish statements immediately. On his first day, he helped to rescue Turbo, who had broken down ahead of Barry and his train. He later helped to solve the mystery surrounding the railway's new fish train, "The Red Herring". To Barry's disgust, he was required to haul passenger trains during a long running conflict between the diesel fleet and the general public, particularly after the diesels went on strike.
In 1975, Barry went out (not entirely intentionally) on loan to Carnforth with Caracus. This irritated Caracus to no end, and things eventually came to a head when Barry spoiled a chance to join an exclusive club of prestigious mainline engines. Caracus berated Barry, making it clear they were not friends and that he wanted him to just go away. Though this hurt Barry, it didn't stop him from going out to rescue Caracus after a breakdown and calling out his club when they refused to help him. Caracus realised Barry was being sincere, particularly when he acknowledged he needed to be less annoying and promised to be better, leading to the pair making amends.
Barry returned to the Dark Railway in 1978. Shortly after his return, his brother Gary and Dave's brother Stan visited the line for a gala. The attention they received made Barry jealous, and nothing he tried to make himself noticed worked. This culminated in him breaking down while trying to haul a 20 coach train after taking on bad coal, prompting Dave, Gary and Stan to come and rescue him. Everyone apologised for their roles in the situation, and all made amends.
Barry is insane, talking nonsense most of the time and behaving irrationally. However, he is good natured, and does his jobs well... when they don't interrupt his day to day life pretending to be a human. Also for an unknown reason, he has a hatred of Scotland. Despite his craziness, he does still maintain a fierce loyalty to his friends, even when they have upset him.
Barry is painted in British Railways lined black with a late crest. He previously carried BR unlined black.
Barry is based on a British Railways Standard Class 9F 2-10-0, designed by Robert Riddles for heavy and express freight work. Gary is also a member of this class.
Episodes:
Barry was the first permanent character in "The Dark Railway Series" to be confirmed to have a different voice actor to Dark DJ himself: Anthony Sims, of "High Lane Productions", who impressed Dark DJ with his vocal rendition and mannerisms of the character.
Barry's love of chicken pies was inspired by the film Chicken Run.
Community content is available under
CC-BY-SA
unless otherwise noted.